Heard some people have never gotten this ceremonial sword or even knew about it so when I got it again today decided to do a quick guide on where he shows up and how I do the sword.
Below is an screenshot of where Aksel appears
(Circled in Yellow)
-make sure to deposit your burial armor as an inventory space is required
Important Note: Aksel will appear randomly at that location shown in the Image below, he will not say anything and no message will appear in chat box, so if your afk too long he will just disappear and you will have never known he was there. Have to initiate the conversation on first sight
Where to take the plans, to Egil
(Circled in Red)
And where to make the sword
(Circled in Orange)
And what the plans look like in inventory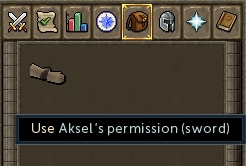 Once you hand the plans over to Egil and everything seems to be in order he will then ask if you need any help or you may start on the sword by clicking on leave.
Don't ask him to rate your sword until it is completed.
After clicking on the anvil you will get a popup that looks like this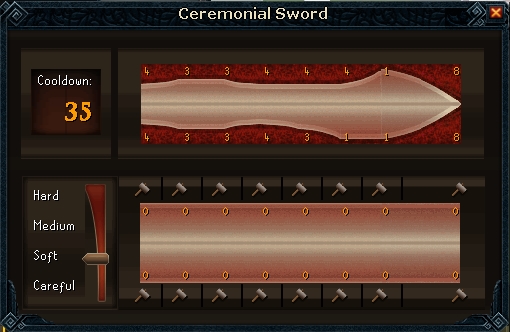 The top sword is the sword you need to create
- Top Left corner you have a cool down number, don't need to rush its based on number of hits not time.
- Bottom Left corner have 4 settings
Hard
- Hits between 0-5 (5 is uncommon)
Medium
- Hits between 0-3
Soft
- Hits between 0-2 (2 is uncommon, will mostly hit 1)
Carefull
- Hits 1 100% of the time (but takes up 2 cool down units instead of 1)
Only use Careful at the end when you have Cool Down to spare.
I will always start with the hits requiring 4 or more on hard
(keep in mind that if the tip passes 8 the sword will break likewise anywhere else if it passes 6)
I will only hit the spots that need a 4 once, twice if it hits a 0 until the following result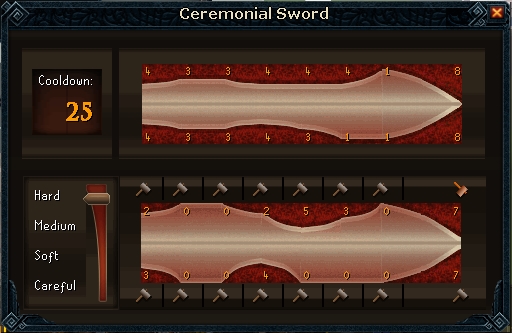 As you can see 1 of my hits hit the 5 and went too far by 1 nothing you can do about it, some luck is involved with the sword.
With the tip I hit 4's on each side and had 4 to go, I risked the hard hits and got 3's. Considering hitting a 5 will break the sword you might want to save tip till end and see what you have to play with and can go with Medium hits first then soft or careful.
I then switched to Soft and finished of the tip and everywhere else that needed 1 more to match the sword above,again you can always leave the tip to last to see how much cool down you have to play with to use careful and guarantee a 1 considering a 2 will break the sword.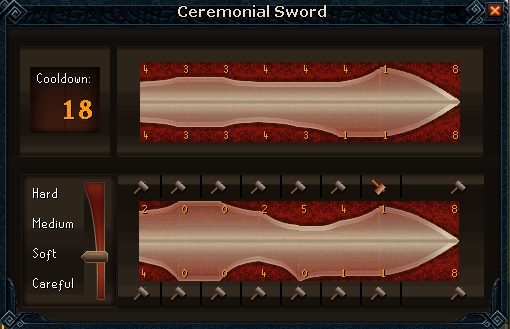 Now all I have left is 2's and 3's
I will leave the hits requiring 2 more, always till last to see how much cool down I have to play with, If lucky can do the 2's with 2 soft hits but if towards the end your sword doesn't have much left before its cooled down too much might have to risk some Medium hits.
I now hit all the 3's on Medium with still plenty of cool down to play with.
now that there's only 2's and 1's left can now finish it off with soft as I still have 11 hits to make a total adjustment of 7 giving me a nice margin can even finish of the last few hits with careful which use up 2 cool down units.
Only ever use careful at the end when you know you can afford to, using it early can cool the sword down too much to be able to finish it.
If you manage to get the sword to perfect it will close window down automatically and tell you no more work needs to be done.
Or if you overshot one of your numbers and still have cool down left you will need to close the window and get Egil to rate, he will ask if you don't want to continue working on your sword because you still have cool down left but there's nothing you can do to fix it so tell him to rate it anyways.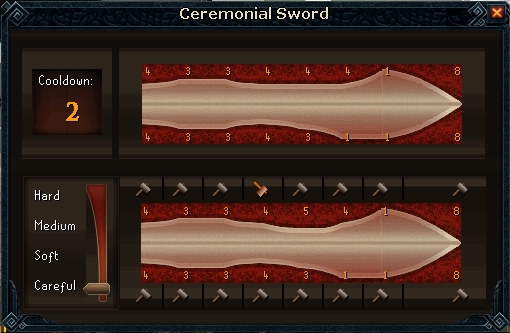 Finished sword at 98%
Each plan can vary as you might only need to hit mostly 1's and 2's or 5's and 6's you will get more or less cool down depending on the sword.
Rewards
You get rewarded a base xp depending on Smithing lvl like with the broken pipes and also based on how close to perfect your sword is, 100% will grant 120% xp.
First completion above 90% grants a one off 5k Smithing xp Bonus
First completion above 100% grants a one off 10k Smithing xp Bonus
Every sword above 90% is granted an additional prize of a cut diamond